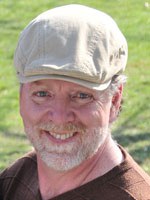 Executive Producer
Our Story Productions / Destination Small Town
Raised on a farm outside a small town in Northern Iowa Jeff found life not limited by its size, but instructive in becoming part of a community! He found with neighbors and friend sharing a common history and memories it creates a bond not found in larger communities! But with entertainment options limited, like so many of his generation he watched a lot of TV, not to date him, but Jeff will be the first person to tell you that he only got two black-and-white channels on TV on the farm unless he climbed up onto the roof and changed the direction of the antenna. His fascination with movie history really began at age 10 when he switched channels from the Lawrence Welk Show to find the classic film, The Invisible Man, playing on the other. He was instantly hooked on old movies. From then on, Jeff has developed such an expansive knowledge about showbiz trivia that his wife calls him, "A constant source of useless information!" Jeff used this knowledge to develop several businesses. In 1984 he opened his first retail store in Denver Colorado specializing in Hollywood memorabilia called Cinema Graphics. Building upon that venture, Jeff formed Star Struck Enterprises that included additional stores in the well-known resort community of Okoboji, Iowa and Fairmont MN.
After developing a wholesale division that took him on the road throughout the Midwest he visited many small towns and was amazed to discover the lifestyle he grew up with was still there!
The need presented itself that the small towns he was visiting had businesses and points of interest that needed to be shared! So in the summer of 2007 he invited his fellow business owners and citizens from his community to volunteer to form OUR STORY PRODUCTIONS. Through a variety of TV programs and a website called "Destination Small Town"
OSP highlights the lifestyles we share in rural America, promoting the idea "It's not just the past but the present that becomes OUR STORY"
For OUR STORY is just that—the story about us, the people of the Midwest.